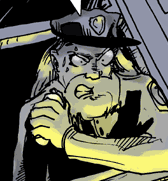 Officer Tod is a corrupt police officer in Podunkton who was formerly in the employ of Jeremiah Finster. After Oasis arrived, he sat back and let her "keep the peace" for him, collecting his own paycheck for doing no work. He is quite brutal and sadistic, as demonstrated by his vicious beating of Nash Straw. When Nash attempts to take revenge, Tod proves to be quite heavily armed, fighting back with hand grenades and an "obnoxiously powerful cannon" left over from the Finster days. Nash is finally forced to shoot Tod in the head, killing him instantly, rather than giving him a long drawn-out death as he had hoped.
---
Reference Strips
Edit
Community content is available under
CC-BY-SA
unless otherwise noted.