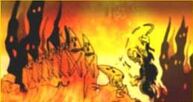 The Raythdom is the shining city of the Rayth, a gem of order in the chaos of the Never, and the personal kingdom of Rithuly. Brie Meighsaton House was supposed to come here to rescue Kesandru, then dump out a bunch of ghosts as a peace offering so Rithuly wouldn't be too piqued about Kesandru's escape.
Community content is available under
CC-BY-SA
unless otherwise noted.