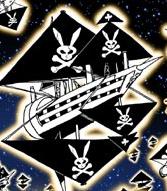 The Drowned Rabbits is a group of pirates rebelling against Sir John Jacobs for control of Timeless Space. It is led by Pirate King Calix and Kada Jansen. The rebel fleet consists mostly of time-frozen people who were rescued using Kada's map and Crazy Carver's infinite time-bubble. The organization is named in honor of Bun-bun, who is presumed to have drowned in the Oceans Unmoving along with Blacksoul. At the end of Oceans Unmoving II, the Drowned Rabbits are preparing to recapture the Madagascar from Sir John Jacobs.
The official symbol of the Drowned Rabbits is the "Bun-and-bones" flag, though Calix's flagship Bloody Bun also flies flags bearing images of Bun-bun and Kada's apparatus [1].
Known Members
Edit
Community content is available under
CC-BY-SA
unless otherwise noted.