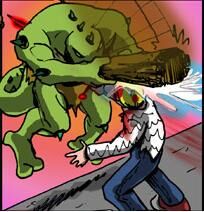 Bubbamonicus is a large, green aristocratic demon from the Dimension of Pain who continually chews on a smaller, wheat-shaped demon. Due to his lineage, he was a proposed successor to Lord Atrocioun, but the Demon King chose Horribus instead because Bubbamonicus had not fought in the war. He nearly killed Torg during the soul caravan fight, but Lady Gwynn of the Book deflected his club and Torg immediately impaled him.
Bubbamonicus first appeared on June 13, 2004. He died on June 30, 2004.
Community content is available under
CC-BY-SA
unless otherwise noted.