This article is about the first Bloody Bun from Oceans Unmoving. For other uses, check your notes. Or just go to The Bloody Bun (disambiguation).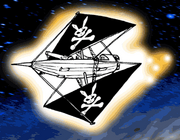 The Shanghai Bloody Bun was the pirate ship on which captain Bun-bun was first seen in Timeless Space. The two-sail ship is refered to as Shanghai, since this is the name of the subchapter in which it appears, and other vehicles are called "The Bloody Bun" during the comic.
The Bloody Bun was re-named the Laser Sword, while the Laser Sword was renamed to Bloody Bun, in order for captain Bun-bun to trick the captain of the Laser Sword during a deal, in which Bun-bun would take control of the larger Laser Sword. After the original Laser Sword was destroyed by Sir John Jacobs, Bun-bun returned to calling the original Bloody Bun by its initial name.
Stub templates only help you to see the No Content. Instead of using a stub template, make the page better!